19.05.2018 12:21 h
Chinese-owned Parma back in Italy's Serie A after third straight promotion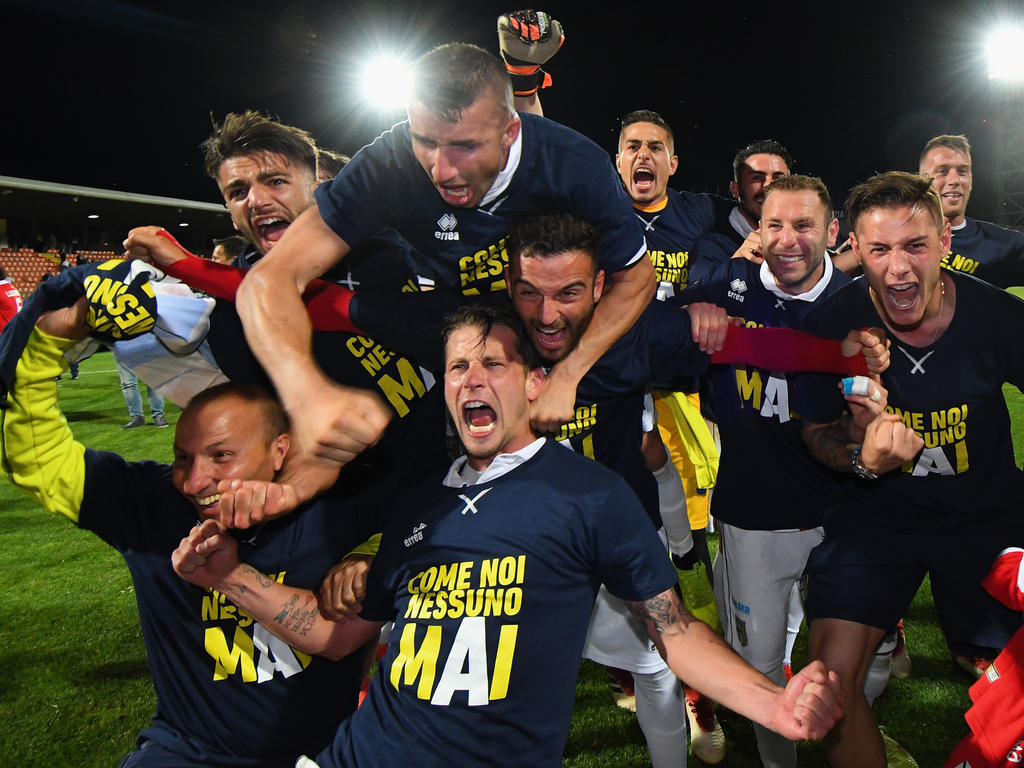 getty, Alessandro Sabattini
Chinese-owned club Parma have returned to Italy's Serie A, securing a third successive promotion after being dumped into the fourth division following a series of financial crisis which led to bankruptcy.
The club from the historical town in Italy's northern Emilia-Romagna region sealed second place behind Empoli in Serie B after a 2-0 win at Spezia while rivals Frosinone could only draw 2-2 against Foggia.
"I feel an extraordinary satisfaction for what these guys have done," said coach Roberto D'Aversa. "We made history, no one had ever managed to get to Serie A in this way."
Chinese businessman Jiang Lizhang took over the Italian club last year after it was promoted to the second tier.
"It's a kind of magic," said Lizhang, who also owns Spanish club Granada and has a five percent stake in NBA team Minnesota Timberwolves.
"Great Parma!" tweeted Italy legend Gianluigi Buffon who started his footballing career with the club and on Saturday prepares for his 640th and final Serie A game with champions Juventus.
Parma had been declared bankrupt in 2015 and demoted to Serie D.
"After the crash I promised this team that I would bring it back to its rightful place in Serie A. I have honored the commitment," said captain Alessandro Lucarelli.
"It can't be real, it's impossible. Nobody could have imagined a finale like this, not even in my wildest dreams," said the 40-year-old defender.
"The others were celebrating, then we heard a huge cheer from the stands. I don't know what happened."
Parma were heading for the play-offs until the 89th minute, when Frosinone conceded a goal for a 2-2 draw with Foggia.
"This is a journey we started three years ago in front of these amazing fans," continued Lucarelli.
"We had difficult moments, we always got back on our feet. They never gave up and I am proud to have been their captain.
"Now I can stop, we'll see. I just need to celebrate right now."
D'Aversa added: "At this moment, we have to enjoy the promotion, as even the dark moments helped fortify us.
"If we look at the statistics, we finished the season with the best defence and I think the team was solid throughout."
Parma had 2-1 to rivals Frosione in April.
"After we lost to Frosinone, I told the lads that we were going to finish ahead of them in the table. Now it's time to celebrate."
D'Aversa took charge in December 2016 and secured back-to-back promotions.
During the 1990s, Parma were amongst the top sides in Italy and Europe winning the UEFA Cup in 1995 and 1999 and Cup Winners Cup in 1993.
However, success came at a cost with the club relegated to Serie D in 2015 after going bust before they clawed their way back up the divisions.
With Empoli and Parma securing automatic promotion, a third place in Serie A will be decided by a series of play-offs between Frosinone, Palermo, Venizia, Bari, Citadella and Perugia.