19.09.2023 22:09 h
Striking Spain players travelling to national team camp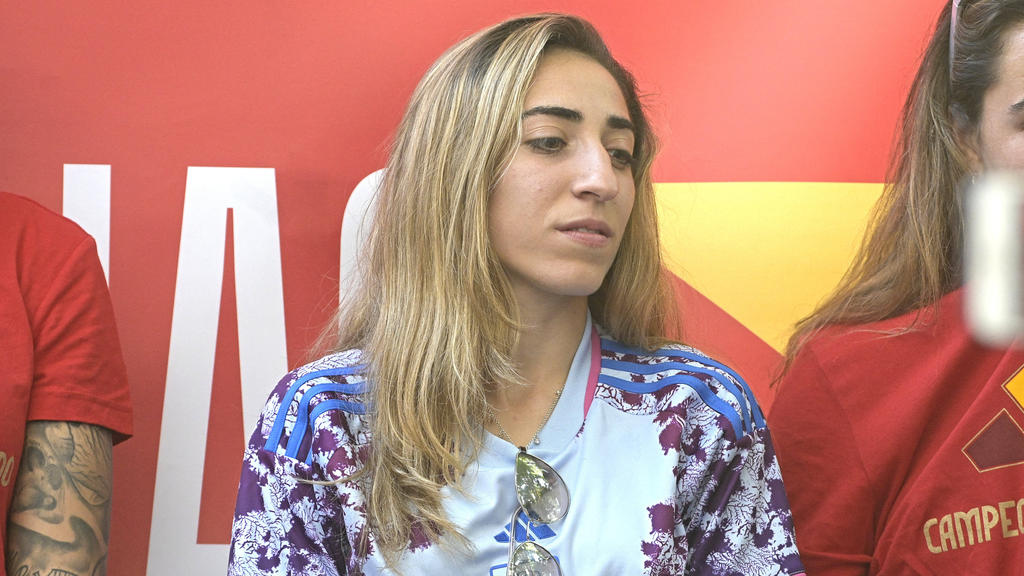 IMAGO/Europa Press/ABACA
Olga Carmona
Spanish internationals selected by new coach Montse Tome gathered Tuesday at the women's national team training camp, despite declaring themselves unavailable, with doubts about their willingness to play in upcoming Nations League games persisting.
Two-time Ballon d'Or winner Alexia Putellas and other Barcelona-based players flew to Valencia and arrived at the camp in the evening to join the rest of the squad, with all players now present except Esther Gonzalez -- US reports say the forward has a thigh injury and will not travel from the United States where she plays.
There are still 39 players striking over changes they want made in the Spanish football federation (RFEF) after the kiss scandal which forced disgraced president Luis Rubiales to resign, including 20 of Tome's 23-woman squad.
Barcelona defender Mapi Leon expressed concerns over being forced to attend, with any player who rejects the call up at risk of sanctions under Spain's sports law.
"We have to talk long and hard about if we are coming to a safe place or not when we have been forced to come," she told reporters in Valencia airport, before heading to the camp in Oliva.
"We have been forced to come. But if they want to sanction us, then we have to come."
Asked by a reporter if she was happy to be included in the squad, goalkeeper Misa Rodriguez replied "no" on her arrival to the hotel.
Putellas was asked in Barcelona airport how she felt and the Barcelona playmaker replied: "Well, bad."
The striking players issued a statement Monday in which they reiterated their wish not to be called up, but acknowledged legal consequences may force them to attend.
Former president Rubiales forcibly kissed midfielder Jenni Hermoso on the lips after Spain won the World Cup in Sydney on August 20, provoking worldwide outrage.
He eventually resigned three weeks after the incident and controversial coach Jorge Vilda was sacked, but many players want more wide-ranging improvements and structural changes.
Hermoso was not named in the squad by Tome in order to "protect" her, the new coach, Vilda's former assistant, said Monday.
"Protect me from what? And from whom?" Hermoso posted on X, formerly Twitter, early Tuesday.
She accused the Spanish federation of seeking to "intimidate and threaten" the World Cup champion players by calling them up against their will for the upcoming matches.
Victor Francos, the president of Spain's High Council for Sports (CSD), said he would have to apply the country's sports law against any player who snubbed the call.
However he later appeared to make a U-turn on those comments and will meet with the players in Oliva on Tuesday night, the CSD told AFP, to ask them to play and offer them government help.
"You go (to play) and we commit ourselves so that what you are asking for can be possible," Francos told Spanish public television.
"If any player is not comfortable and does not want to play, I think the most normal thing is that they are not called up and another one is called up," he added.
Spain's sports law from 2022 states that athletes must attend the call-ups of the national teams when summoned, and not doing so would be a "very serious" infraction.
The potential fines range between 3,000 and 30,000 euros ($3,200 to $32,100), while they could also lose their licences to play altogether, for up to five years.
Spain face Sweden on September 22 and Switzerland on September 26 in the Nations League.
The eventual finalists of the Nations League will qualify for the 2024 Olympic Games.
Spanish players were offered support by their Swedish counterparts.
"They need to feel the support around them, that other countries support them in the decisions they make," said Sweden midfielder Filippa Angeldahl.
"If they feel they have to boycott to make something happen, it's clear that we support them."
Goalkeeper Hedvig Lindahl wrote on X: "I don't want to be part of encouraging people to chase a football dream if the game will not protect them while doing so."
Spain plan to fly to Sweden on Thursday morning before their match in Gothenburg on Friday.