20.05.2023 03:17 h
Colombia's unique antidote to football hooliganism: dialogue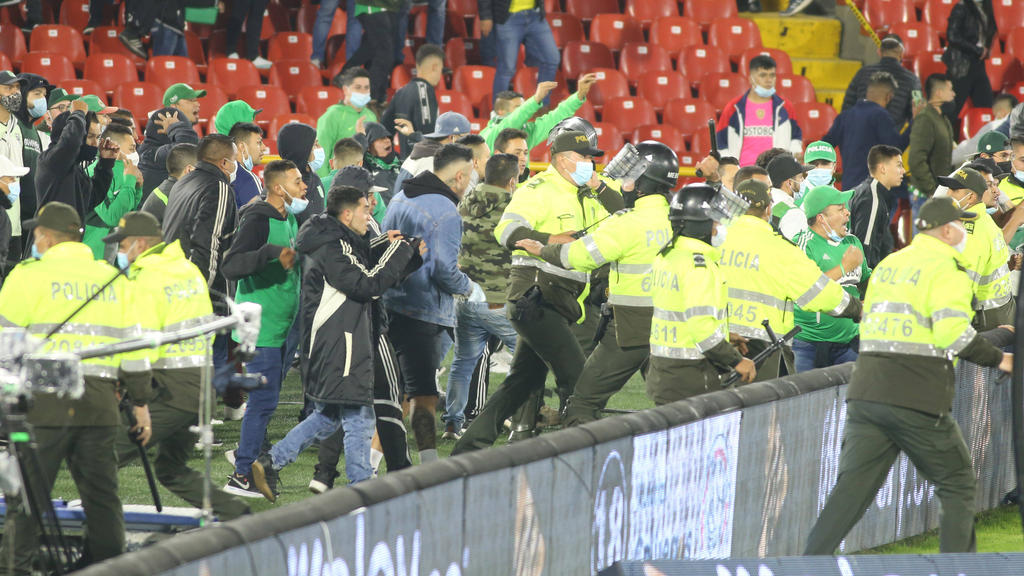 IMAGO/Daniel Garzon Herazo via www.imago-images.de
Alejandro Gallego's match ended in a coffin after the 25-year-old was one of three people killed during a knife fight between rival Atletico Nacional and Independiente Medellin football hooligans last month.
"It's the most absurd thing that can happen, they're killing kids over a club badge," his distraught father, William Gallego, told AFP after the funeral.
"Football is not about killing each other."
Hooliganism is a major problem in Colombia football: there have been 350 football-related deaths in the country, according to academic studies.
Despite calls to come down hard on the perpetrators, President Gustavo Petro has decided on an alternative policy: dialogue.
It is a tactic he has already employed with belligerent armed groups as part of his "total peace" plan to end six decades of conflict in the South American country.
Last month, the government organized the first ever meeting between the leaders of hooligan groups and authorities.
"We have to talk with them ... they can help us resolve" the situation, Interior Minister Luis Fernando Velasco said during the meeting.
"Without their commitment, the problem worsens."
Petro, Colombia's first left-wing president, has a history of fostering relations with football hooligans, known as barras bravas or just barras in Spanish.
When he was mayor of Bogota from 2012-2015, he created a scheme employing young barra members, who often come from socially disadvantaged neighborhoods, in city hall.
"When the president was mayor of Bogota, he developed a program called 'Goals and Territories in Peace' through which he got many young people involved in social programs, that were also jobs," researcher Alirio Amaya, who has been tasked by the country's rights ombudsman to build relationships with groups of barras, told AFP.
"These were young people who work three days and study four days (a week). He created possibilities in many (government) entities to involve young hooligans" in employment.
Petro then lent on those relationships in 2021 during widespread protests against the government of his conservative predecessor Ivan Duque.
"I invite all the football barras throughout the whole country to take out their team jerseys and get out onto the streets and march for the great game of Equality and Peace in Colombia," Petro tweeted at the time.
Rival barras also put aside their differences to support Petro on his successful campaign trail in 2022.
"There were various types of violence that we had to subdue to come together" during the campaign, said Kevany de Arco, a leader of the barras for the Popular Junior football team in Barranquilla.
The government's approach to combating football hooliganism is at odds with that of Colombia's football federation, which wants to install metal barriers both between rival supporters and between fans and the pitch.
Federation president Fernando Jaramillo insists such measures have worked in other countries but Velasco has ruled them out, saying that the state must resolve the underlying "social tensions" that lead to football violence.
De Arco insists that away from the violence, barras have "their own culture" and wants the state to recognize that.
Amaya has met with the leaders of barras from Popular Junior and Union Magdalena in Santa Marta. Last year, a fan died in clashes between the two teams' barras.
Authorities need "to understand the dynamics of violence" between rival football supporters to be able to eliminate it, Amaya told AFP.
Others simply demand a heavy handed response to violence.
Attorney General Francisco Barbosa blasted recent violence as "acts of urban terrorism" and hit out at the government for failing to deal with it.
The heavy-handed approach amounts simply to banning barras from football stadiums, said Amaya.
Many people act as if "the barras don't deserve anything," he said.
But "the government has shown .... that it has a different path" for combating football violence.
The legislature approved on May 5 a national development plan for the next five years.
It included a special clause dedicated to barras, announcing the establishment of a public policy aimed at collaborating with them "as a strategy to improve the coexistence of citizens."