28.05.2023 21:00 h
Leeds fans entitled to slam players after relegation: Allardyce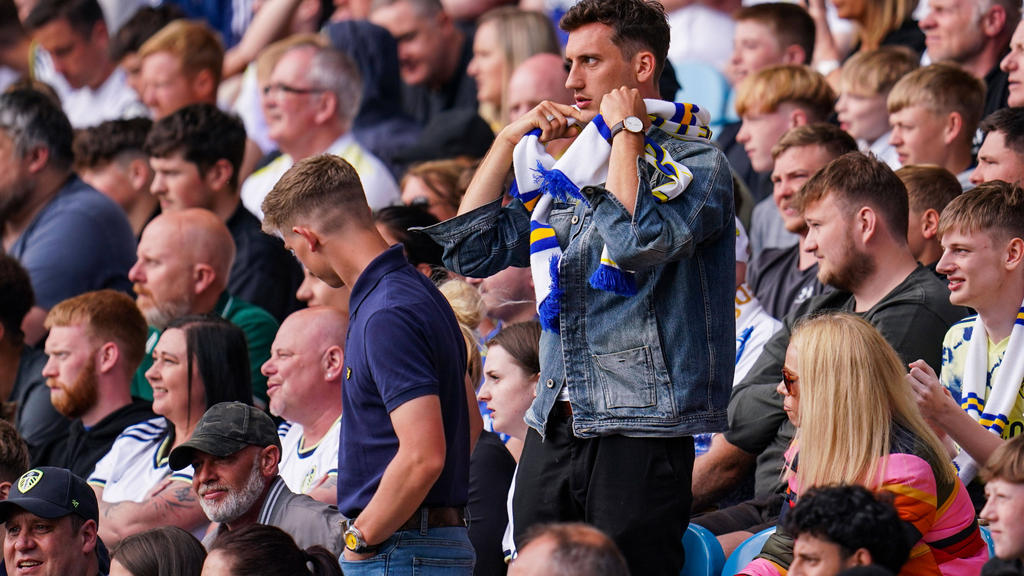 IMAGO/Malcolm Bryce
Sam Allardyce said Leeds fans were "entitled" to their furious response to the club's relegation from the Premier League on Sunday.
Leeds' three-year stay in the top flight is over after fourth-bottom Everton's 1-0 win against Bournemouth condemned the Yorkshire club to the drop on the final day of the season.
Allardyce's side needed Everton and Leicester to drop points, but both won while Leeds were thrashed 4-1 by Tottenham.
It was a fittingly depressing end to a troubled season and frustrated Leeds supporters spent much of the match calling for the board to quit, while also berating their underperforming players.
Chants of "Leeds are falling apart again" and "you're not fit to wear the shirt" echoed from the Elland Road stands.
Interim boss Allardyce had no complaints about the jeers.
"It is a huge disappointment to me not to have gotten more results from the players. I can't blame them for not trying. They gave everything they have but you can't make those errors at this level," Allardyce said.
"I'm disappointed for the fans. They are very entitled to show their disapproval. They filled the stadium to support and the lads should have given them more to get behind them.
"It is a great shame. The fans go home disappointed and rightly so. If we had been more resilient, we could have had more in our favour."
The last time Leeds were relegated from the Premier League in 2004 it took them 16 years to get back to the top tier.
The club's hierarchy have already signalled their desire to avoid such a long wait this time.
"Relegation is painful, and we apologise to our fanbase that the performances this season have not seen the club consolidate our status as we had all hoped," the club said in a statement after Sunday's relegation.
"However, Leeds United remains in a strong position to build a team that can challenge for promotion from the Championship next season.
"We know things have not been good enough, we know we have to improve, but please be assured that behind the scenes we have worked hard to ensure that the past will not be repeated. Our focus is now on how we get straight back to the Premier League."
Allardyce is yet to find out if he will be guiding Leeds' promotion bid.
The former England boss failed to win any of his four games after replacing the sacked Javi Gracia, but has hinted he would like to stay in charge beyond this season.
If he does get the job on a permanent basis, Allardyce knows he faces a big task to get the club back on track.
"There is a lot to be done, even for the Championship. Goals to be scored and goalscorers to score them. That is an area (to improve)," he said.
"The squad is a little on the young side and lacks experience. That could be not as big a problem in the Championship, as those lads could make a big impact. Which way does the club want to go?"