31.07.2022 22:02 h
Thousands greet Suarez on return to Uruguay's Nacional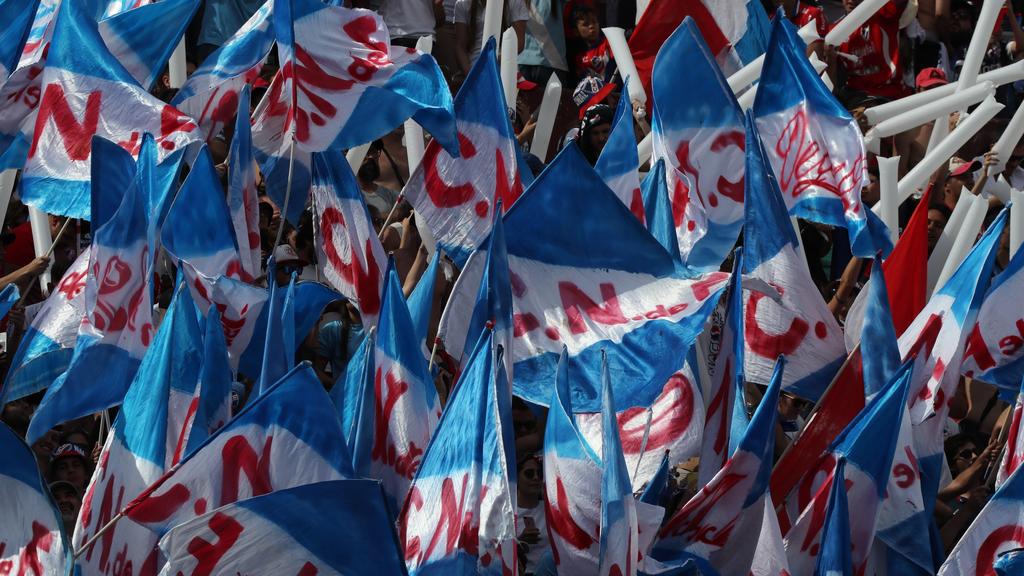 Raul Martinez via www.imago-images.de
Thousands of fans turned out to welcome home Luis Suarez on Sunday as the star striker joined Nacional, the club where he began his storied career 17 years ago.
Suarez, 35, admitted he was "nervous" and "emotional" after touching down at Montevideo's international airport just before 11:00 am (1400 GMT) where he was met by family members, friends, club authorities and even some celebrity fans.
Having arrived on a private jet owned by his friend and former teammate at Barcelona, Lionel Messi, Suarez then left the airport in a procession towards Nacional's Gran Parque Central stadium for his official presentation.
Local press have described this as the most important signing in Uruguayan football history.
In his first interview upon returning to Uruguay, Suarez thanked the fans whose massive social media campaign to bring him back proved decisive in his decision.
"I'm here for them, thank you to them and to all the supporters," he told DirecTV.
According to Nacional, the #SuarezANacional (Suarez to Nacional) hashtag launched by fans was used 50 million times across 35 countries.
When news of his signing broke, Nacional registered 5,000 new club members in 24 hours and sold an extra 700 season tickets, local press claim.
"I'm convinced that this is the right step to the right club and in the right country to prepare for the World Cup," added Suarez.
Uruguay's record international goalscorer, Suarez had been a free agent since May when he ended a successful two-year spell at Atletico Madrid, winning La Liga in 2020/21.
Before that he had a trophy-laden six-year stay in Catalonia where he formed part of Barca's famed "MSN" attacking triumvirate alongside Argentine Messi and Brazil's Neymar.
Four La Liga crowns and the Champions League in 2015 were the highlights of his stint in Barcelona, during one of the glory periods in the club's history.
He has signed a short-term deal with Nacional until the end of the year, effectively meaning he will play for his boyhood club until the World Cup in Qatar, which kicks off on November 21.
His official contract signing at the Nacional stadium was due to feature a musical show attended by past club greats.
"Until a short while ago, this was unthinkable and now we're the best fans in the world. We're the only ones who could have achieved this," Alba Pinazo, 27, a Nacional fan at the airport told AFP.
"He's a world star and now he's come home," added Roberto Correa, 62.
Suarez's contract includes a provision that guarantees he will be picked from the start in at least 16 Nacional matches in the 100 days leading up to the World Cup.
He could make his debut as early as Tuesday in the Copa Sudamericana -- South America's equivalent of the Europa League -- against Brazilians Atletico Goianiense.
His fourth World Cup in Qatar is likely to be Suarez's last with the national team.
He started his career at Nacional in May 2005, making his debut at 18.
After winning two Uruguayan titles with Nacional, he moved to Groningen in the Netherlands while still a teenager and then on to Ajax a year later.
There he caught the eye of Liverpool and after three and a half seasons in England he moved to Barcelona for a fee worth more than 80 million euros.
He has been an often controversial figure.
In 2011, while playing for Liverpool, he was accused of racially abusing Manchester United's French fullback Patrice Evra, for which he was eventually handed an eight-match ban.
He was also given a nine-game ban at the 2014 World Cup for biting Italy's Giorgio Chiellini -- the third time he had bitten an opposing player.